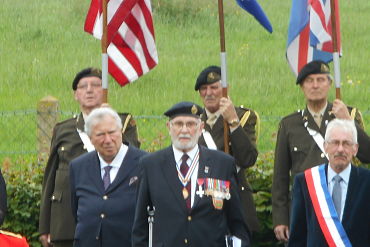 5th - 10th June 2022 (6 Days)
Normandy Landing Beaches and Commemorations 2022
ONLY £599 per person!
You will never forget a visit to the D-Day Landing Beaches along the Normandy coast, especially during the Anniversary week! This tour will include visits to all of the well-known battle sites - Pegasus Bridge, Gold, Sword, Juno and Omaha Beaches, Colleville Montgomery, Pointe Du Hoc, Arromanches & Mulberry Harbour - as well as attendance at the main commemorative events in Bayeux, Arromanches and Colleville Montgomery.
Making this even more memorable is not only the opportunity to meet surviving D-Day Veterans, but attendance to private events organised by the SE Normandy Veterans Alliance and the local Mayors. The service at Jerusalem Cemetery is one you will never forget. 
Flexible Itinerary
If you want to opt out of some of the visits above, no problem! You can choose to stay in Caen or travel on the coach to Bayeux or Arromanches and do your own thing! Spend a day on the beach or go and see the World famous Bayeux Tapestry.
Request a Pick-up point
If you do not live in the North West and want to travel, we can arrange a suitable pick-up point en-route to Dover for you! Please contact us to arrange this service.
Included on this tour:
Executive coach travel
Tailored pick-up points (contact us for details)
Ferry crossing via Dover
5 nights B&B at the Hotel de France in the centre of Caen
Attendance at commemorative events during the week
Private invitation to Exclusive Commemorative events 
FULLY GUIDED